When it comes to keeping a youthful, healthy appearance, our herbal and holistic facials here in Falmouth, Maine, are the best options! When visiting Portland, Falmouth, or any of the surrounding areas come to us to relax and leave feeling rejuvenated. Contact us to set up an appointment today.
Facial Specials
ALOHA FACIAL
60 minutes
Spoil yourself with our new anti-aging, mega-firming, and ultra-hydrating treatment that is a great choice for all skin types. Extravagant Hawaiian coconut brown sugar  is used to gently exfoliate, nourish, and awaken your skin. An exhilarating watermelon & coconut water mask will replenish moisture. Watermelon, packed with potent antioxidants and potassium, tackles photo-aging and stimulates collagen and elastin growth on cellular level to help skin stay young and supple. For improved circulation, reduced inflammation, and a mega-firming effect, we finish the treatment with a powerful Chi lift with Hawaiian kukui oil. Kukui oil is full of oleic and linoeic acids and vitamins A, C, and E. It easily penetrates the skin without leaving an oily residue and protects your skin from environmental effects. This treatment is one of the best solutions for chapped and dry winter skin.
$60
LOMI-LOMI Add-on Massage
20 minutes
For ultimate relaxation, our special Lomi Lomi Aloha Facial add-on massage is for the neck and decollate. This traditional Hawaiian 'loving hands' massage restores energy and will leave your skin, muscles, and spirit totally renewed!
$15
Prior to any facial there will be a consultation to determine your skin type and proper treatment.
Hollywood Facelift
120 minutes
Intense massage and facial treatment
Our Hollywood Facelift is a unique invention without the injections or the operational solution of problems associated with the withering of the skin of the face, neck and decollete. The function of fibroblasts is to stimulate the production of elastin, collagen, muscle tone, and to derive residues of metabolic processes. The massage technique is exclusive and created on the basis of ancient Ayurvedic and Hawaiian techniques. The results of this facial massage should surprise you!
For a Hollywood facelift to be the most beneficial, it should be done once or twice a week. Packages are available.
$130
Enhanced Chaga Facial
60 minutes
This holistic facial will include deep cleansing, vacuuming, and a natural peel followed by an application of rejuvenating, hydrating, and brightening mushroom infusions and masks, delivered into the cells of your skin with ultrasound. The wild mushrooms that will be used during this facial are Chaga Mushrooms, Reishi Mushrooms, Cordyceps Mushrooms, and Lion Mane Mushrooms.
As with other services, Elina Organics treatments, equipment and skincare products will be selected specially for your unique complexion. This Chaga Mushroom Facial is specifically beneficial for an aging and sensitive complexion.
$60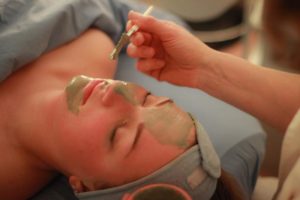 Mermaid Face Lift Treatment with Crushed Sea Pearls and Natural Peptides
90 minutes
This natural and holistic facelift is non-surgical and injection-free! After gentle cleansing and exfoliation, we will infuse your skin with the new Elina Organics Serum made from collagen-building natural peptides, blended with Hyaluronic acid and nourishing organic botanicals.
A deep rejuvenating mask made from Marine collagen and mixed with crushed seawater pearls will be delivered into your skin with high-frequency sounds. (Which helps to deliver active ingredients into the live cells of your skin.)
We will complete the procedure with the application of Elina Organics Eye Cream, holistic skin elixirs and organic moisturizers selected specifically for your complexion. Your skin will look brighter, hydrated and firm after just one treatment.
This corrective treatment is beneficial for all complexions but especially for aging, sun-damaged, and dry skin.
$90
European Facial
90 minutes
This deep purification facial leaves your skin absolutely refreshed and revived. The European facial uses warm steam, brushes, suction, intense extractions and high-frequency sounds to close pores and remove impurities from the skin.
The European facial includes a customized mask and moisturizer.
Your skin will look and feel clean, healthy, and rejuvenated. This natural extraction treatment will help clear up acne, pimples, blackheads, and comedones! This European Facial can help everyone clear up acne especially teenagers experiencing fluctuating hormones. We have packages available for our European Facial for teenagers please contact for information.
$90
Gem Stone Facial
90 minutes
For centuries gemstone therapy has been used to enhance health and beauty. You will notice the benefit of the organic GemStone facial after the first treatment. During the corrective skincare procedure your skin will receive a powerful bio energized infusion of precious stones.
The treatment starts with deep cleansing, steaming, extractions and a gemstone peel. This is followed by the application of a mask freshly prepared for the specific needs of your skin using organic blends and minerals. Finally, organic gemstone elixirs from holistic plants and minerals are applied to your face and massaged into your skin.
This skin rejuvenation treatment is based on ancient Ayurvedic traditions and is beneficial for all skin types.
$110
Back Exfoliating Treatment
90 minutes
The health of the skin is important, especially in those hard-to-reach areas. The detoxifying and stress-relieving treatment starts with a deep-cleansing exfoliation with steam to relax the skin on the back and allow easier removal of dead skin cells and toxins during extraction.
A detoxifying massage is then performed to gently flush toxins from the body. Lastly, a clay-based mask is massaged into the back to ease tension and absorb any impurities left on your skin, leaving you refreshed and renewed.
This treatment is excellent for controlling shoulder and back acne and pimple breakouts.
$90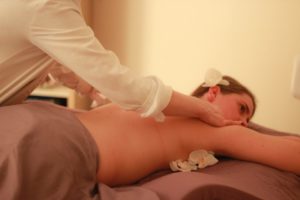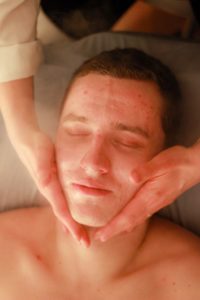 Gentlemen's Facial
90 minutes
This treatment consists of skin cleansing, exfoliation, aromatherapy, and a holistic facial massage with stress-reducing essential oils.
The session is completed with a hydrating treatment to relieve razor burn, skin dryness and skin irritation. This Gentlemen's Facial can help with in-grown hair from shaving your beard.
$90
Signature Facial
90 minutes
The Signature Facial is a complete rejuvenating facial which helps in maintaining a healthy complexion. The procedure includes a deep pore cleansing, steam with exfoliation and a facial massage with a soothing mask.
The Signature facial massage increases circulation of the blood, which carries oxygen to the skin and tones the facial muscles.
You'll also enjoy a complimentary foot reflexology, arm and hand massage, or an upper-chest massage (decollete) during the Signature Facial.
$90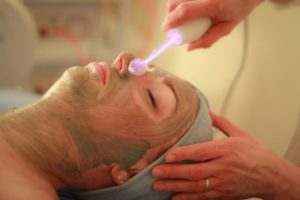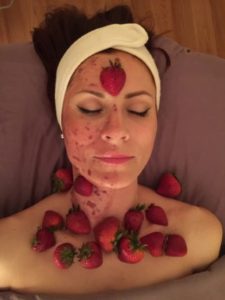 Very Berry Facial
60 minutes
Did you know that berries have more antioxidants than any other fruit? They also contain potent minerals, vitamins A, E, C, K, P and B complex, and acids that are great for the skin. Berries are superfoods, powerful at fighting free radicals, exfoliating and invigorating tired skin. They are anti-aging and boost skin's natural collagen!
We only use seasonal organic berries freshly mixed with other organic ingredients at the time of your appointment to meet your skin's specific needs. This botanical facial will benefit any type of skin and make you look younger, fresher and unblemished.
Available when berries are in season.
$60