Our botanical and organic body treatments in Falmouth, Maine, help people in many ways from regaining a youthful look to feeling healthier through weight-loss! Experience an ancient practice of infused linen wraps applied to the skin to detoxify and internally cleanse the body. Sessions start with dry-skin brushing and after your body gets wrapped in treatment-infused cloth and covered with a gently heated thermal wrap. Our body treatment wraps are very relaxing and comfortable for everyone.
European Warm Herbal Body Wrap
90 minutes
This body treatment cleanses the body of toxins through metabolic skin cell stimulation. It reduces the appearance of cellulite and firms, tones and tightens skin. The European Warm Herbal Body Wrap also helps with stretch marks.
$85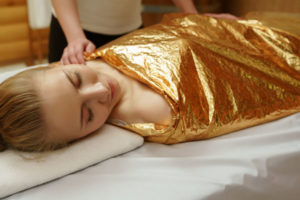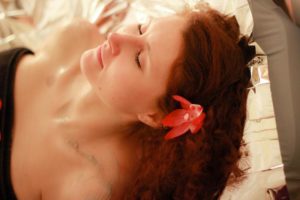 Volcanic Healing Clay Body Wrap
90 minutes
The Volcanic Healing Clay Body Wrap body treatment is specifically designed to contour your body. It tones and tightens the skin, cleanses deep pores, and fights acne. This body treatment usually targets the bottom, hip, thigh, abdomen and back areas.
$80
Seaweed Body Wrap
90 minutes
Our all-natural Seaweed Body Wrap body treatment consists of chemical-free seaweed powder that contains vitamins, minerals and amino acids that help cleanse the skin and flush out toxins leaving the skin soft and youthful. This body wrap hydrates, revitalizes, and firms the skin, which makes it the ultimate cellulite treatment, ideal for dry and sensitive skin.
$80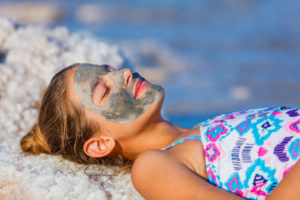 Dead Sea Salt and Mud Body Wrap
90 minutes
Say goodbye to excess water, impurities and dull pores. A layer of Dead Sea salt and mud massaged into your skin cleanses, detoxifies and firms you from head-to-toe. Its rich mineral content accelerates natural exfoliation and restores your skin's pH balance. This rejuvenating body wrap can also help people lose weight. It is the best body treatment for psoriasis, eczema, and acne relief!
$95
Amethyst Body Polish with Siberian Pine Nut and Cupping
90 minutes
Just in from Siberia, the most exclusive spa treatment in New England! Our Amethyst Body Polish with Siberian Pine Nut and Cupping body treatment is the perfect thing for you. It is a full-body exfoliation with amethyst crystals followed by a customized vacuum cupping massage session that uses authentic and 100% natural Siberian pine nut oil!
Amethyst stones that are ground into a powder, gently exfoliates your skin, leaving it silky and smooth, while also releasing stress from your body. Then pneumatic glass and rubber cups are used during the massage and are applied to target areas to activate the lymphatic system, detox your body and relieve deeply knotted muscles. Siberian Pine Nut Oil, known for its therapeutic and anti-aging properties, increases the effect from the massage by helping the skin carry out its functions, reducing cellulite, and visibly firming the skin.
The result is your body feeling better for days and your glowing skin looking younger and beautiful again! You deserve the best!
$90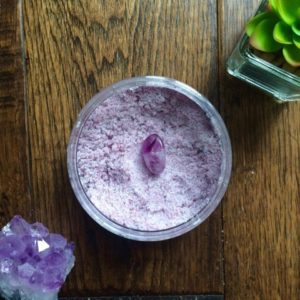 Precious Himalayan Body Polish
90 Minutes
Take wellness to another level with our new Himalayan Salt Body Polish body treatment. We use the finest quality salt hand-mined from the Himalayan Mountains that was formed in the Jurassic era and it contains beneficial amounts of 84 trace elements & irons. Due to salt therapy's amazing benefits, also known as Halotherapy ('Halo' is Greek for salt), it has become a top spa trend, and we are excited that our clients can take advantage of it at our Spa! Though it might be similar to spending time in the salty sea air, this salty body treatment offers aid in more ways than just relaxing on the beach.
This one-of-a-kind Himalayan Salt Treatment begins with dry brushing to stimulate circulation and the body's lymphatic system, followed by an innovative healing technique using warm Himalayan salt stones and warm pads filled with precious salt to help rebalance the central nervous system, lower blood pressure, relieve muscle tension, remove toxins, and alleviate stress. It gives you a deeper sense of relaxation that lasts for days after the treatment. Himalayan salt massaged into your skin exfoliates and cleanses your pores better than any soap. It allows your skin to breathe easily and replenish moisture in depleted cells giving you smooth, healthy-looking skin. It's perfect to combat jet lag, to reset your energy and improve sleep for an all-over sense of well-being.
$90